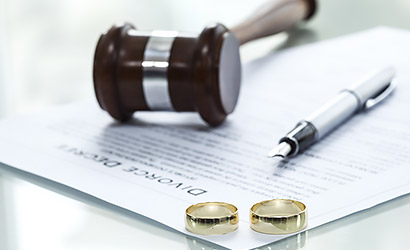 A divorce by judgment (裁判離婚 or "saiban rikon" in Japanese) is a procedure whereby a husband and wife seek to get divorced by having the family court issue a judgment. The procedure is initiated by filing an action for a divorce in family court after the husband and wife are unable to agree to a divorce through conciliation.
In certain cases, the parties may settle the case and agree to get divorced during the pendency of the action.
What to watch out for in a divorce by judgment
In order to file an action for a divorce in the family court, it is required that you have conducted conciliation (known as the "conciliation-first principle"). Furthermore, in order to seek a divorce by judgment, it is necessary that a statutory reason for divorce exist. Examples of this reason for divorce include the other party committing an act of unchastity, it not being clear whether the other party is dead or alive for at least three years, or the other party suffering from a severe mental illness where there is no prospect of recover.
Benefits in hiring a lawyer for a divorce by judgment
The lawyer will prepare the legal documentation such as the complaint
The lawyer will represent you and speak on your behalf at court
The lawyer will advise you on the existence of any statutory reason for divorce
The additional benefit of hiring Verybest
Initially, we will advise you on the prospects of your case, and during litigation, we will aggressively advocate on your behalf.